Being a Woman in a Woman's World – Making Your Mark
Featuring Patricia K. Gillette, Bailey Bosch, , Rachel Brushfield, Yolanda Cartusciello, Susan Saltonstall Duncan, and many more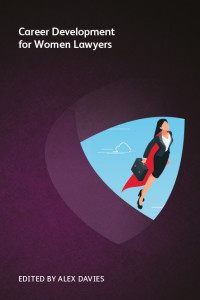 For women, by women – to help female lawyers progress their careers in an industry still struggling with gender equality.
Although women comprise nearly half of all law students and incoming associates at law firms, and have done so for many years, they remain greatly outnumbered by men at senior levels. If nothing is done to change this trend, the percentage of women equity partners will remain under 20 percent for decades to come.
Overview:
A new book Career Development for Women Lawyers

Slow progress in gender equality at senior roles raises awkward questions for the industry – and highlights the challenges that women lawyers face when developing their careers.

Indeed, at mid-career, when earnings peak, the top 10 percent of female lawyers earn more than $300,000 a year, while the top 10 percent of male lawyers earn more than $500,000. Coupled with this, the number of female equity partners at top US law firms has risen by only five percent in the last 12 years. Although women comprise 47 percent of associate ranks at law firms, female lawyers make up only 31 percent of those entering the equity partnership class.

Career Development for Women Lawyers is packed with exclusive insight, experience, and research from a broad range of lawyers, coaches, academics, thought leaders, and consultants, including:
The gender pay gap, Susan Eandi and Monica Kurnatowska, partners, Baker McKenzie
Being a woman in a woman's world, Joanne Frears and Belinda Lester, Lionshead Law
Framing your career and designing an effective job search , Debbie Epstein Henry, Founder, DEH Consulting, Speaking, Writing; co-founder, Bliss Lawyers
The branded lawyer – professional development through confident brand-building, Nika Kabiri, VP, Lux insights
Blurring the professional and the personal – relationship building, Karen Johnson-McKewan, Partner, Orrick, Herrington & Sutcliffe
The power of maximizing your strategic network, Christie Guimond, corporate development manager, Bird & Bird
Executive presence to advance career success, Susan Saltonstall Duncan, Rainmaking Oasis
Flexible working arrangements – the next stage from the "office nine-to-five", Katherine Thomas and Bailey Bosch, Free Range Lawyers
Going it alone – setting up your own practice", Rachel Khiara, Khiara Law
Work's not working – portfolio careers", Rachel Brushfield, The Talent Liberator, Energise Legal
Law as a second career", Pam Loch, managing partner, Loch Associates
Uncovering bias that sabotages career development and success", Rosalie Chamberlain, Chamberlain Consulting
Modern career trajectories – is partnership still the end goal?", Clare Harman Clark, senior professional support lawyer, Taylor Wessing
Women are leaving – what might make them stay?", Yolanda Cartusciello, partner, PP&C Consulting
Women are ready – is the legal industry?", Patricia Gillette
This book is for women, by women – to help female lawyers progress their careers in an industry still struggling with gender equality.
Written by outstanding women lawyers in their respective fields, each contribution takes a personal and professional view of the legal sector, providing insight and analysis of issues as diverse as flexible working, portfolio careers, unconscious bias and the modern career trajectory.
The book is split into four sections, and begins with the results of original research undertaken by ARK Group in early 2019. Surveying 100 women lawyers from across the globe, we asked women at all stages in their careers to open up about their experiences, from recruitment to retirement, and the challenges – and opportunities – that being female has brought. The results make for interesting, and perhaps surprising, reading.